What INSIGHTS Do You Want to ACCESS AND SEE?
In Your First Class Begin Receiving Answers.

Insights about your
Intuitive Decision-Making
Read Auras, Future Prophecy, Medical Intuition
Together We Will Open Up Your Incredible Psychic Potential
Psychic Retrieval®
Realize Your Full Intuitive Potential
Accurate Psychic Readings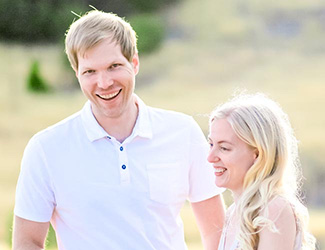 Jason and Melissa Nelson, the Founders and sole Teachers of New Three® University, have been teaching the Psychic Retrieval® program since 2005 and 2013 respectively.
Psychic Retrieval® is a unique process given to Jason by spirit, designed to create a grounded, accurate space for focusing your four intuitive abilities, known as the 4 clairs, to access information about the future, present or past. This practical tool allows you to gain valuable insights and answer questions on life areas like health, relationships, family, career, and purpose.
Intuition is as natural as eating, sleeping, thinking or talking. You may not realize it but you've been receiving intuitive "hits" your entire life, like when you think of someone and they call or you finish people's sentences.
You receive intuitive impressions every day. By opening, trusting and using your full intuitive potential, you will have an insight and ability that few people do to guide you and your loved ones!
Students are guided, step by step, by Jason and Melissa, enabling them to reproduce the Psychic Retrieval experience at home to continue receiving important answers to live their best life. The technique is designed to exercise your intuitive muscles assuring you will develop your ability more every time you use it.
Intuition is the eyes, ears, heart and mind of the soul. Jason and Melissa use Psychic Retrieval to help them make decisions about this purpose and trainings, realize greater health and vitality, and to look at prophetic future probabilities that navigate them around roadblocks, enabling them to achieve more with less effort!

How is Psychic Retrieval® Different?
Psychic Retrieval® is more than a simple intuitive reading, it allows you to see the world as your soul sees it, by using not just one, but all four clairs: seeing (clairvoyance), feeling (clairsentience), hearing (clairaudience) and knowing (claircognizance). You will unleash your full psychic perception!
Accurate Readings
By teaching personal growth alongside the technique, we enable students to experience profound insights and become exceptionally clear psychics through Psychic Retrieval! Through Intuitive Charting and Psychic Retrieval of information using ALL FOUR intuitive qualities, you have the greatest chance of getting the correct, accurate timing, place and circumstances to help you to understand the information you receive.
Unparalleled Depth & Connection
We are committed to the highest spiritual truth, providing unmatched depth and connection. The innate ability for using your intuition clearly is within everyone. However, it is greatly unrealized even in experienced mediums and psychics, who often face challenges in receiving clear, consistent information. Many professional psychics are not more than 50% accurate in their intuitive readings because they have reached a plateau in their development. Our divinely crafted technique ensures success for everyone to continue advancing, no matter what level they have reached.
Grounded Teaching & Live Interaction
Classes are practical and grounded, allowing for straightforward learning. We conduct live, interactive Zoom classes for immediate support and dynamic learning, where others often rely on pre-recorded or self-paced courses, offering less interaction and support.
Direct Access to Experienced Founders
Students have direct access to the founders, Jason and Melissa, in small classes (12 students per class) or one-on-one, benefiting from their combined 30 years of experience. Other programs tend to offer large classes with limited access to the main teacher and might be led by less experienced instructors, affecting the depth and reliability of learning.
Psychic Retrieval®: A Three-Level Journey
Psychic Retrieval® is a transformative three-level program, available in live small group classes or privately one-on-one, each offering a personalized, interactive experience, with an optional Certification.
Psychic Retrieval 1: What to Expect in Your First Course
Experience:
•

You will do 2 aura readings on yourself using all four clairs.

•

You will do 2 aura readings on another person using all four clairs.

•

You will do 2 more advanced readings on specific information you want to know using all four clairs.

•

Facilitate Psychic Retrieval for another student twice, enabling you to understand how to guide yourself at home after the training.

•

Enjoy an intimate learning environment, with a maximum of 12 students per class, allowing for personalized interaction, questions, and sharing.
Teachings:
•

Learn to easily use all four "clairs" intuitive senses: seeing, hearing, feeling, knowing.

•

See auras, intuitively read yourself and other people.

•

Understand safe, grounded readings, so you don't take on other people's energy.

•

Develop accuracy and confidence as a psychic.
Takeaways:
•

Take home the step-by-step technique and insights to continue Psychic Retrieval.

•

Team up with fellow students to exchange Psychic Retrieval sessions outside of class.

•

Gain empowering, soul-based perspectives to continue using your intuition effectively.

Psychic Retrieval 2 & 3:
•

Advanced intuitive skills, intuitive charting, and medical intuition.

•

Manifesting and changing energy in a space (space clearing).

•

Seeing the future, prophecy, interpreting visions and dreams.

•

Access past lives, life contracts, and in between lives.
Certification:
•

For those aspiring to faciliate others, there is an option to become certified.

•

You will be qualified to successfully facilitate friends or offer professional services to clients.

•

Learn foundational aspects of starting a practitioner business.
Access future insights to help you.
Could you use intuitive insights into your major life areas?
Psychic Retrieval gives you access to answers about the future and what to do with them.
Will I meet my soul mate?
What do I do to manifest more abundance?
Should I stay or leave my current relationship?
When do I change careers and to what?
How can I heal this?
I just completed level 1 and 2 of Psychic Retrieval and it was a wonderful experience. Not only did I learn more about the four intuitive qualities of seeing, feeling, hearing and knowing, but I also learned how I use them in life. I learned how to retrieve information that I would like to know from the infinite knowledge of the universe by using my four intuitive senses. I highly, highly recommend this course for anybody to enhance their spiritual qualities and to gain insight. -Jennifer, California USA
Come with questions you really need answered.
It's exciting tapping into the infinite knowledge of the Universe.
I had a really positive experience with the Psychic Retrieval course. And I feel like I'll be much better equipped to help my clients that I work with in the future. I also received really good inspiration and guidance for my own life. I had some questions that I really needed an answer for. I feel that I'll be able to tap into that anytime in the future that I need guidance or direction in my life and it will be very helpful for me and my family. -Cindy, Utah USA
Have fun building the full psychic picture step by step!
These classes that I'm taking with Jason and Melissa are totally different from how I learned. It really makes sense. We have a step by step that anybody can follow. I have never seen that anywhere else. -Karen, Las Vegas USA
I just completed levels 1 and 2 of Psychic Retrieval and it's the real deal. I had a really enjoyable time and learned a lot that is useful for living my life.- Gerry, California
Open up dormant psychic senses.
It has been an amazing intuition gym, exercising our intuitive abilities, our inner seeing, inner knowing, inner hearing as well as inner feeling, all of the clairs. Before the training I thought I was pre-dominate in one or two of the clairs, letting the other clairs go by the wayside, figuring that's not my strength. But in the training I got to go expand my awareness and actually found how to go in and improve them. This has opened up a whole new realm of possibilities for me and excitement of wanting to play and explore more of the psychic abilities and move forward in my life in such amazing ways. Thank you, thank you, New Three University. -Monica, Utah USA
Read auras to understand people better!
This has been one of the most useful things for me. It's made life easier. It's very relatable for people. In observing people, I can see which of their intuition is the strongest and what is driving them, which is also very helpful. -Jacinta, Denmark